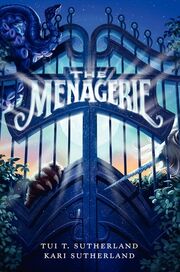 The Menagerie is the first book in the Menagerie series by sisters 
Tui T.
and
Kari Sutherland
. It was released March 12, 2013.
The Blurb
Edit
Logan Wilde is accidentally drawn into the mysterious, dangerous world of the Menagerie when he discovers a griffin hiding under his bed . . . and it leads him straight to the weirdest girl in seventh grade, Zoe Kahn.

Zoe is panicking. Her family has been guarding the Menagerie for centuries. If they don't get the cubs back fast, the whole place will be shut down. To save the griffins' lives, she's willing to break all the rules, even if it means letting an outsider like Logan help. But the real mystery remains: Is someone trying to sabotage the Menagerie?

Who let the griffins out . . . and why?
Plot Summary
Edit
Coming Soon
Ad blocker interference detected!
Wikia is a free-to-use site that makes money from advertising. We have a modified experience for viewers using ad blockers

Wikia is not accessible if you've made further modifications. Remove the custom ad blocker rule(s) and the page will load as expected.