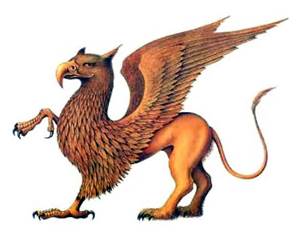 A griffin is a creature that has the head, torso, and wings of a eagle along with the hind quarters, back legs, and tail of a lion. There are eight known griffins in the Wyoming Menagerie: two adults and six cubs. They gain the ability to communicate telepathically after their first year alive, usually announcing their names once they are able to; however, cubs cannot be heard (with some exceptions such as
Logan
).
Zoe noted that the griffin cubs will eat almost anything in the Menagerie, and that their favorites are fish, cheeseburgers, and chocolate, as well as jelly beans.
A List of Known Griffins
Edit
Squorp- a male, first one to be found under Logan's bed.
Flurp- a female
Clink- a female, oldest cub
Clonk- a male, possibly the second youngest
Yump- a male
Sage- a female, youngest cub
Riff- father of the Wyoming Menagerie's griffen cubs
Nira- mother of the Wyoming Menagerie's griffen cubs
Ad blocker interference detected!
Wikia is a free-to-use site that makes money from advertising. We have a modified experience for viewers using ad blockers

Wikia is not accessible if you've made further modifications. Remove the custom ad blocker rule(s) and the page will load as expected.